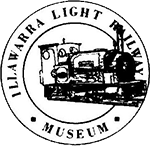 Needs & Surplus Stock
Surplus Locomotives for Sale by the Illawarra Light Railway Museum Society Limited.
Shay Locomotive.
Shay locomotive ex Munro Hampton Railway is for sale by our Society . The Shay has been built to rolling chassis status. The parts used are from both Shay 904 of 1904 and Shay 2097 of 1907, the locomotive comes with spares and a boiler for a future restoration project. The locomotive history is that it has been with the ILRMS  since 1974 and in the 1990's is the new chassis and other associated works had been done.
Wallaby.
Steam Locomotive 0-4-0 Hawthorn Leslie,Newcastle-upon-Tyne, England. No 2988 of 1913 Ex BHP Port Kembla also works in Lithgow.
Wallaby is for sale by our Society, the Locomotive is on Static Display and has been owned by our Society since 1978..The locomotive is complete.
Gemco Locomotive.
Gemco Electric locomotive  (George Moss and Coy) Rydalmere NSW 1947.
Locomotive has been owned by our Society since 1973 and was withdrawn from service at Albion Park.. The locomotive is compete with spare engines.
Please Email us at info@ilrms.com.au for sale details and information of these locomotives.
Wanted
At reasonable prices or less;
42/45/60lb lengths of rail with fishplates
For all enquiries on these items all contact phone numbers and address can be found on our contacts page.